Without in any way minimizing the political adventure of the Whitlam government's decision to cut tariffs by 25%, it must be said that this policy represents a belated acceptance of the realities of a changing economic environment.
To put it simply, the decision was taken "later" rather than "earlier" given the economic situation in which this country now finds itself.
Depending on your perspective, it took an exceptional set of political circumstances to bring decision-making into line with reality, or it took an exceptional set of circumstances to delay the process at this point.
Almost 10 years ago, an anonymous official from the Department of National Development wrote in one of that department's few excursions into the print media that the mineral discoveries of the 1960s represented a milestone in Australia's history. equivalent to the first crossing of the Blue Mountains.
It wasn't as hyperbolic as it sounded.
Anon exaggerated the contribution of Blaxland, Lawson and Wentworth as opposed to the contribution of Weipa, Tom Price, Newman and Whaleback.
History books, like journalism, often have a way of projecting personalities, rather than inanimate objects, as drivers of change.
In fact, over the past decade, the human factor has succeeded in counteracting and perverting the forces of economic evolution.
Until 1960 – a year of great significance in our tariff history as well – Australia had an embargo on the export of iron ore.
This embargo had been implemented in 1938 apparently on the basis of this generation's version of the energy crisis.
The government at the time said that Australia did not have enough iron ore reserves to start exporting.
Privately, the then Prime Minister, Mr Lyons, told BHP Managing Director Mr Essington Lewis that he was banning the export of iron ore for two reasons.
The first was that the operations of the Nippon Mining Company in Yampi Sound could prove very embarrassing in the event of war.
The second reason given was that Australia's known iron ore reserves were only sufficient to supply Australian steel mills for "several hundred years".
Therefore, when Lang Hancock, a pastor, found iron ore in the Hamersley Range in 1953 and Stan Hilditch, a Meekathara prospector found iron ore in the Mount Newman area of ​​the Pilbara in 1957, they kept silent about their findings.
It was not until we had the peculiar coincidence of events in 1960 that the export of iron ore became respectable again.
The dismantling of the import control quota system, a repressive, smelly and unpopular method of imposing a buy Australia policy on the community, took place that year.
The tariff then became the main weapon of internal protection.
As the impoverished Australian consumer began to taste the wonders of the global economy, Australia's balance of payments entered one of its periodic crises.
---
Since the end of the first mining boom of the 1860s known as the Gold Rush, Australia had run a chronic current account balance of payments deficit on the back of the unpredictable elements of global demand. of wool and capital inflows to balance its accounts.
The specter of a balance-of-payments crisis has haunted successive governments and contributed to the strong sentiment among all parties in favor of a self-sufficient economy.
This struggle for self-sufficiency has not been articulated as such, except in occasional references to Australia's defense problems.
On the contrary, different parties have seen the issue of protection in terms of their own electoral base.
The only real anti-protectionist party, the Country Party, first lived with protectionism as a necessity, then under Sir John McEwen embraced it through a mixture of opportunism (successive Country Party campaigns were funded by manufacturing interests) and philosophy (Sir John's dedicated research into the creation of import-substituting industries was motivated by his preoccupation with recurring balance-of-payments problems, but was also underpinned by his awareness of the defense of a besieged Australia).
Ironically, it was a balance of payments crisis that led to a reassessment of our iron ore export policy.
And for those who appreciate the added ironies, it was Sir John's predecessor, Sir Arthur Fadden, who at this stage was acting as spokesman for the mining companies, who persuaded the government to lift the export embargo.
In retrospect, this turned out to be a milestone in our history.
Iron ore discoveries and developments were only one part of the mineral boom of the 1960s, but they were the most important part of it.
Moreover, they represented a new form of mining development for Australia.
The method of financing development pioneered by the Rio Tinto Zinc Corporation presented Australia with something that had never occurred to them in the past.
RTZ's technique was to sign long-term contracts with ore buyers and use these contracts as collateral to raise development funds.
This technique was originally developed by Daniel Ludwig after the war when he built his first shipping empire.
Mr. Ludwig is another of the leading mining entrepreneurs who came to Australia in the sixties.
From the point of view of national economic management, the mining boom of the sixties was something quite different from anything that had happened in the past.
Not only did this set Australia apart, but it also provided an element of predictability in our export registry.
Long-term ore contracts were not hostage to the vagaries of the wool market, or even to nature.
---
By the mid-1960s, it was possible to envision an Australia that would no longer be constrained in its economic management by the specter of totally unpredictable elements such as capital inflows and export earnings from primary industry.
Such a perspective undermines the concept of self-sufficiency as a desirable or defensible proposition from an economic management perspective.
This brought political practicality to the economic theory of comparative advantage (a theory, oddly enough, Dr. Jim Cairns, one of the main instigators of this week's tariff decision, went out of his way to speak when he spoke to the country's main protectionist lobby, the Australian Industries Development Association.)
The prospect of such a situation has also cast a critical light on the questionable manner in which pricing policy has been achieved in Australia.
Prime Minister Menzies' resounding but nonsensical phrase that "economical and efficient" industries should be protected has been put to the test by a Tariff Commission that has become increasingly disciplined and inquisitive in its approach to tariff investigations.
This process of more critical examination of tariff policy was encouraged by the Treasury and by the generation of economists after 1950 in the public and private sectors.
This crop of graduates was uninhibited by any scars of depression, a characteristic which Sir John McEwen, the defender of the status quo, often remarked with a derogatory tone.
Curiously, the great tariff debate, which has been part of serious economic conversation for almost a decade now, has not found its place in Parliament.
On the government side, MCR Kelly has fought a lonely battle for lower fares. Frequently, his well-researched and widely reported speeches were given before empty pews.
On the opposition side in Parliament, the idea that Labor is anything but a high-protection party has been ridiculed by the party's chief economics spokesman.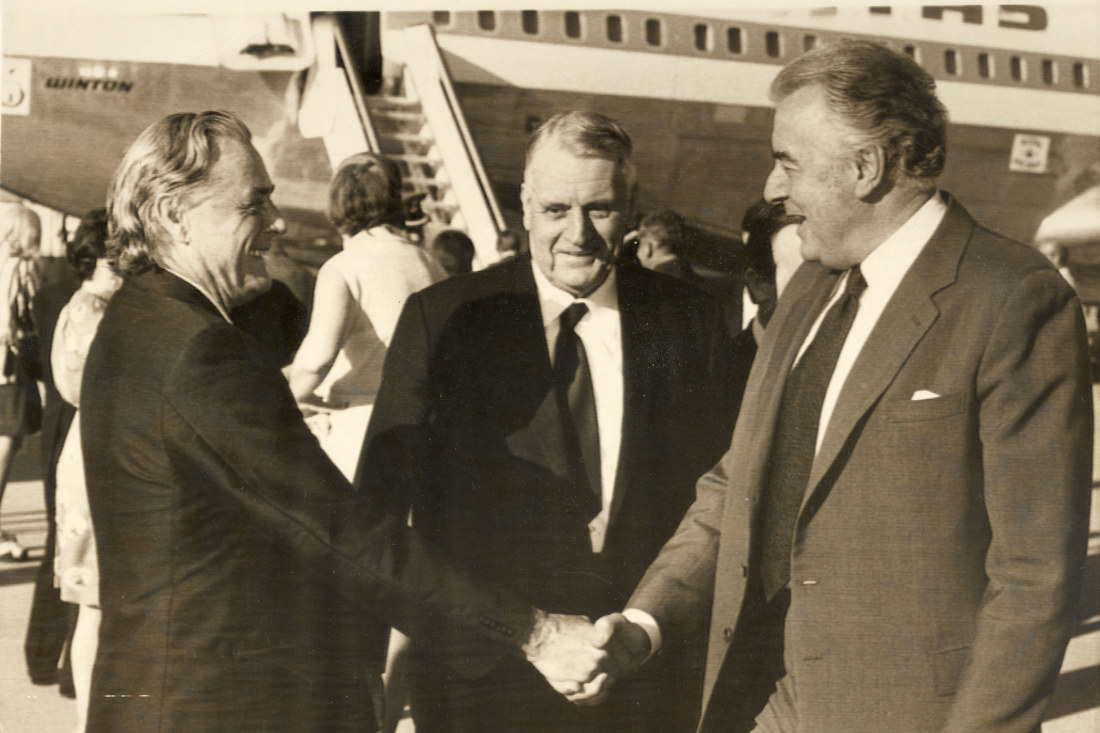 Dr. Cairns chartered an eccentric passage between economic orthodoxy, socialist prejudices, trendy populism and sincere humanism.
Mr Hayden was treated as a well-meaning political dreamer with his head stuck in textbooks when he argued for a more critical approach to tariff policy on resource allocation grounds.
Mr. Whitlam, compelled to familiarize himself with the intricacies of economic policy, approached the subject of tariffs with notable caution.
It wasn't until statistical evidence showed a direct correlation between cost inflation and over-protection that Mr. Whitlam came to see tariff reform as acceptable.
From this reluctant entry into the field, Mr. Whitlam became, under the impetus of his economic advisers, the main promoter of tariff reform.
His thoughtful speech to the Metal Trades Industry Association on June 21 was the government's first major public statement in this regard.
In this speech, Mr. Whitlam warned of the need to restructure the industry.
He also spoke favorably of the economic policies of what he described as "other small, wealthy industrial economies – such as Sweden, Denmark and Norway".
It was the mining boom that made this analogy possible.
It is no longer possible to argue convincingly that from a management perspective, and due to the threat of balance of payments crises, Australia should adopt a siege mentality and opt for self-sufficiency .
That the mining boom, its discoveries and subsequent developments changed Australia's destiny has always been indisputable among economists.
Mr. Whitlam was perhaps the first politician to fully appreciate it.
But a serious caveat must be introduced here.
The same mentality that held that Australian iron ore was best left in the ground and unmined lives with Mr RFX Connor.
Significantly, Mr. Connor was one of those opposing this week's tariff decision.
It was Mr Connor who told a Labor Caucus Economics Committee meeting last year that tariffs would be cut on his dead body.
However, Mr. Connor rejected hari-kari in favor of living to fight another day.
This means that Whitlam's Australia, exemplified by the difficult economic progressivity of December's revaluation and July's tariff reduction, could prove to be a fleeting affair if there is a significant shift in power relations within of the Cabinet.
Learn about Australia in the 1970s